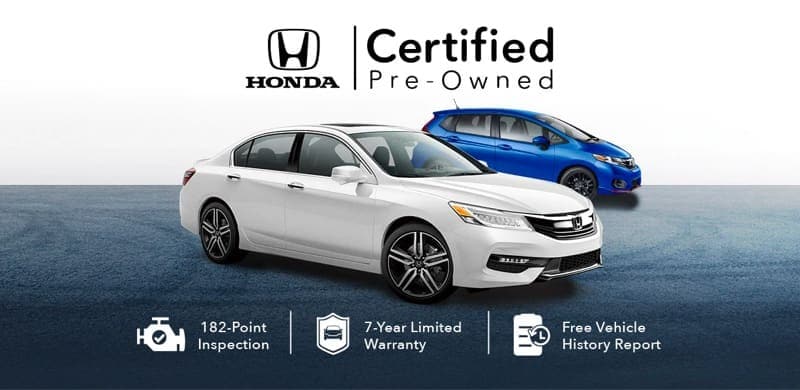 Certified Pre-Owned
Nothing compares to the quality of a Honda. No other program comes close.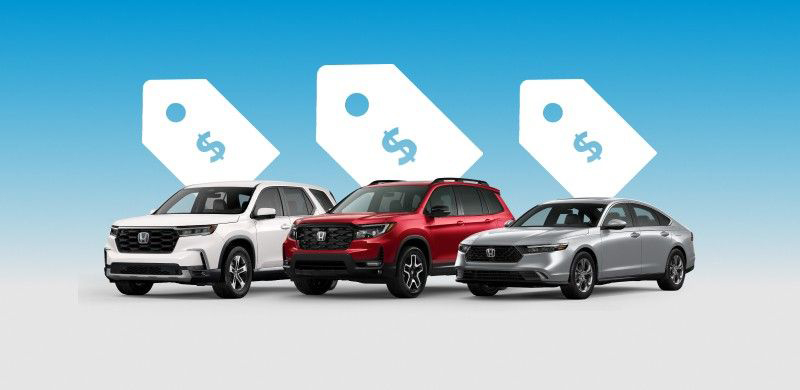 Current Offers
See this month's featured current offers going on now on new Honda vehicles.
Our Reviews
Recently purchased a vehicle from Honda of Casper. At the time I was without any vehicle and in a bind since I care for a disabled person and my elderly mother. Just happened to call on the holiday and was so pleased that this dealership was open. Not only that but the sales person I spoke with (Patrick Durtsche) said he would be happy to bring the vehicle I was interested by my place and pick me up! When he arrived we drove back to the dealership and test drove a couple other vehicles I was interested in. Get this, he offered to take both back to my place to ensure they would be suitable (getting in and out) for my room mates. Needless to say in my mind I had decided I wouldn't be purchasing from any other dealer or sales person. I'm so grateful I made that call and had Patrick for my sales person. I doubt I would buy from anyone else when the time comes again. Thank you so much for the extra effort, honesty and help Patrick. Kudo's also go to Michelle Gifford, the Sales GM for such a smooth process.
I can't say enough about Honda of Casper. I love their new owners , Hazelwood auto. I have never been to such a dealership that truly cares about the customer. I am so impressed with the entire staff : service dept. Laura and Wayne, GM Michelle G, the owner Dan, my salesman Montana, Susie, Eric etc. They went beyond and back for me . I will never find another dealership that cares like these guys do. Thank you Honda of Casper Lori R
We have always been very pleased with the department at Honda of Casper since we purchased our first Honda in 2005. The Service Department had always been very upfront and honest and that is why we purchased a 2nd Honda(CR -V) in 2007. We have been looking at purchasing a new CR-V Hybrid to replace our Pilot for the past couple of years and Montana had been very helpful in that process. This past month we were ready to purchase if we were able to get the right price on a vehicle that we wanted. We purchased a 2021 CR-V Hybrid Touring and Montana, Michelle, Clayton?, Wayne, and Eric were all VERY helpful and professional in the test driving and purchasing process and we couldn't be happier.
Our service with Casper Honda was excellent. We were early, but our car was taken right in. The representative came out and kept us posted on the progress of the work. In no time at all, we were finished and completely satisfied in every way.
As someone who doesn't know much about cars, the people here made everything easier to understand. they were straight up about pricing,no funny business and very polite and helpful. overall, this is the best place i could have taken my car!
Always kind and fast service , letting me know how much before I have it done is always great to know as well thanks so much !!
Always fast and friendly service. My HR-V had a recall notice and they had me taken care of in no time! I'll be back for sure!
Took our Honda Odyssey into Casper Honda and Brandy was our service tech there. She is amazing and does amazing work. She will take care of you to make sure you get what you need done and give recommendations. Definitely will be back to see her again if I need anything done
Quick, efficient service! Mike helped me get a fix for a broken brake light that was easy and worked within my schedule. I appreciate his help and everyone else's.
Love this dealership! They always provide fast, quality service. We brought our car from this dealership and go to them for all our services. We've been highly satisfied every time.
Came first to parts department for trans fluid and got treated like I was valued! Came second a month later because I had issues with a/c button and had called to verify if I could get one sent when I was told of a recall on my newly acquired old accord so set up appointment and had medical appointments also that day so service said I could get courtesy rides to and from of which I needed because was restricted from driving due to test procedures. Next day we asked for ride from motel to pick up accord when I felt like I wanted to be a part of this group and found a car I would trade for that I'd found. Ended up buying the car because sales department was excellent as well! I now belong with this group 🙂. I recommend!
Honda of Casper has been doing service on my 2016 Pilot since I bought it. Everyone in the service department does an excellent job. Brandy has been exceptionally helpful keeping me updated during my last service appointment and I trust the service I receive. I highly recommend Honda of Casper.
Dropped my vehicle off for warranty/recall work and before you could say Shazam, Abracadabra, and all those other magic words, my vehicle was ready. Really friendly people, and all the service and parts teams go out of their way to make you feel appreciated.
Honda of Casper did an exceptional job of servicing my vehicle! My vehicle was picked up from my place of employment & returned. The best part was they left a loaner with me during the time they were servicing my vehicle. A loaner was very important to me as I have an ill family member. (Sure put my mind at ease.) Customer service was amazing and my vehicle was returned sparkling clean, even the front floor mats! I highly recommend Honda of Casper for any of your vehicle servicing needs. They have amazing customer service!!!
Great experience. Great Team! Thank you Bill Baker and the rest of the team I highly recommend. I love my Honda Accord! A very no pressure and honest dealer.
What an awesome experience! Thanks to Bill and Cisco for helping me purchase my new Honda CR-V. I'm so thrilled! Can't wait to drive it
Fantastic and very willing to work with me! Ryan is the best and I really couldn't be happier with the service provided and the people providing it
I recently took my 2012 Honda Civic Hybrid in for some repair and services and I am truly bewildered by the work they preformed on my car as well as the follow up care. I will not go into specifics but this level of both care and service truly sets Honda of Casper apart from other dealerships. I do not live in Caper but am happy I drove there for the work my car needed and I will definitely bring my car back for any needed repair or services as they truly care about their customers. Thank You again for everything you guys did for my car, it is appreciated and I will not forget everything you guys did!
I had my pilot in for an oil change. Again service was excellent and I enjoy visiting with super friendly staff. I totally trust service department and would not go anywhere else
Thank You Service Department !! Awesome service Exceptional Pre- planned appointment for 1030 AM on a Saturday (steering ignition lock and cylinder pre ordered ) . I arrived ten minutes early. The service department and technician started the repairs early and were efficient and experienced ! The technician also identified a recalled " lock actuater" and replaced that part. The Manager serves lunch to the employees on Saturday and invited me. Synoposis: Started my service appointment early Knowledgeable and friendly service staff Efficient repairs were under estimated budget and identified and adjusted fee to include my Honda unknown recalled part Thank You, Thank You !!
I purchased my Pilot from Honda a few years ago. I have been bringing it into the service department since then. Technicians and mechanics do an awesome job. They give you detailed information on services performed, They are very reasonably priced and all personnel are friendly and helpful. I would trust Brad, the mechanic, with any repairs that need to be done. He's very knowledgeable and is someone you can trust. I've always had very positive experiences with Honda of Casper.
It was time for a bigger vehicle, I happened to see this car. Very nice to drive; friendly, professional people. A win win! Thanks Honda!
I recently had a recall on my Acura to replace the driver's airbag. Acura was supposed to set up an appointment with Honda of Casper. However, when I arrived at the Honda Dealership, Acura had failed to make the appointment. The Service Advisor, Mike Ward, told me that it wasn't a problem that they would take care of the airbag replacement. The airbag was replaced quickly and efficiently by John Mwangi. The Service Advisor was very courteous and helpful and explained everything to me in detail I was so well treated that I would definitely return to Honda of Casper for both service and sales in the future.
My sale was very quick. Had all my paperwork done in MINUTES. Service department is epic. Very friendly, honest, and fast. Trust this department over any mechanic shop I've ever been to
The service department at Honda of Casper is phenomenal! Their service was prompt, the price was competitive, and they were happy to answer any and all questions I had. Highly recommended!

Welcome to Honda of Casper
Here at Honda of Casper, we've built our name and reputation on the ability to provide individuals and families throughout Lander, Riverton, Douglas, Rawlins, Glenrock, and beyond with a diverse selection of premium new Honda models and a reliable inventory of used vehicles. Whether you're looking for a new sedan like the Honda Civic or Honda Accord, a new crossover SUV like the Honda CR-V, or a family minivan like the Honda Odyssey, we've got you covered at Honda of Casper.
Stop in today to browse our lot and showroom, and chat with our approachable, pressure-free sales team about finding the right vehicle for you. All of our vehicles come competitively priced, and we offer fast and easy financing to our customers at competitive rates. Get a great deal on your next car, and don't forget to check out our ongoing new and pre-owned vehicle specials.
Our customer care doesn't stop once you drive off the lot in your new vehicle. Our state-of-the-art service department is staffed with a team dedicated to you and your vehicle. All of our Honda technicians are factory-trained and certified. Whether you're in need of standard maintenance like an oil change or belt replacement, a major repair, or genuine Honda parts, you can count on Honda of Casper.
For years, we've been serving the communities in and around Casper, WY, and we look forward to doing it for many years to come. Visit us whenever you have the time at 3801 CY Ave in Casper, WY.
Get Directions To Honda of Casper